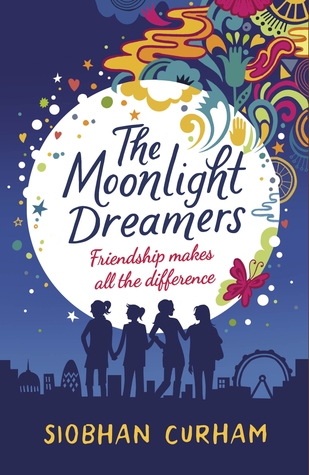 Publisher:
Walker Books AU
Release Date:
July 7th 2016
Source:
From the Publisher!
Purchase:
Mighty Ape
/
Book Depository
/
Amazon
Read it in: 3 1/2 hours
Word Rating: WHIMSICAL
A inspirational, heart-warming book about four girls trying to find their place in the world. Siobhan Curham celebrates very different but like-minded friends in this captivating novel.





Amber craves excitement and adventure. Instead, she's being bullied at school for having two dads, and life at home isn't much better. Inspired by Oscar Wilde, Amber realizes that among the millions of people in London, there must be others who feel the same as she does; other dreamers – moonlight dreamers. After chance encounters with Maali, Sky and Rose, Amber soon recruits the three girls to the Moonlight Dreamers. It's high time they started pursuing their dreams, and how better than with the support of friends?
Often when I read books I think I've liked, the more I go over them, the more problems and holes I find in it and my love for it sometimes dissipates.
THE MOONLIGHT DREAMERS however was a book that when I finished it, thought it was alright, if rather cringy in parts, but the more I sat down and thought about it, the more I realized I liked it.
THE MOONLIGHT DREMERS holds a lot of important themes that some books go over and a lot of books don't,
but instead of going quickly through the situations and finding easy and tidy solutions, THE MOONLIGHT DREAMERS explores them in context and in a much more real life way.
It was really nice to read a book full of FRIENDSHIP.
Where a group of girls were there there for each other and didn't bitch or pick on each other behind each others backs. Watching it develop and blossom through the ups and downs that the book took the characters on, was lovely.
It also made me realize and think again, that every teenager is a different person and will not live their teenage years exactly like someone else.
It reminded me that even though I, would definitely not do some of the things that the characters did and I definitely would never respond like they did if I was ever in those situations, it reminded me again that everyone is different and everyone (of course) acts and responds differently in different situations. Reality check, Ella!
The whole novel has a very Middle Grade feel about it.
There is nothing wring in a book feeling very Middle Grade when it IS Middle Grade but THE MOONLIGHT DREAMERS has characters that are fifteen and sixteen and are doing things that eleven and twelve year olds should not even be THINKING OF, let alone doing and it just didn't click with the story very well.
I sadly was not impressed about how bullying was handled in here.
One of the characters, Amber, is badly bullied and it goes on throughout the whole book and even though she tells the other Moonlight Dreamers about it, a solution isn't found or made and the book finished with Amber still being bullied and nothing being done about it.

Yes at times, the book is full of cringe moments
where I was literally yelling out loud, "WHY!! WHY WOULD YOU DOOOOO THAT?!?!" "URGH THIS BOOK IS SO ANNOYING."
I
WOULD NEVER DO THAT, WHY IS THIS PERSON SO STUPID??!" but at the end of the book I was pleased that the book had taken a brave step and tried to showcase different situations and even though it was a shaky step at times, at least it was still a step.
There is a lot wrong with this book, but there is also a lot of good too!
I suspect that because I am secretly a shriveled grumpy old woman in the inside and also find fantasy much more my cup of tea, I didn't quite fit or sit the requirements that other people would meet for reading this novel. However, I'm happy I read it and I would definitely recommend it to the Contemporary lovers out there. Because if a grumpy old prune like me (no offense to other grumpy prunes out there) can enjoy it, who knows if you can't too?