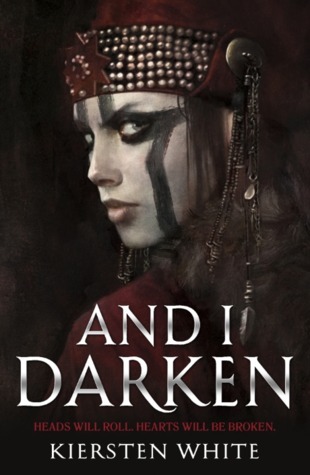 Publisher:
Random House
Release Date:
June 28th 2016
Source:
From the Publisher!
Purchase:
Mighty Ape
/
Book Depository
/
Amazon
Read it in: 5 1/2 hours
Word Rating: GLORIOUS
No one expects a princess to be brutal. And Lada Dragwyla likes it that way.





Ever since she and her brother were abandoned by their father to be raised in the Ottoman sultan's courts, Lada has known that ruthlessness is the key to survival. For the lineage that makes her and her brother special also makes them targets.





Lada hones her skills as a warrior as she nurtures plans to wreak revenge on the empire that holds her captive. Then she and Radu meet the sultan's son, Mehmed, and everything changes. Now Mehmed unwittingly stands between Lada and Radu as they transform from siblings to rivals, and the ties of love and loyalty that bind them together are stretched to breaking point.





The first of an epic new trilogy starring the ultimate anti-princess who does not have a gentle heart. Lada knows how to wield a sword, and she'll stop at nothing to keep herself and her brother alive.
"Souls and thrones are irreconcilable."
Sometimes I read a book and I love it. The end. But sometimes, I read a book, love it and wish with all my heart that I had written the novel myself.
AND I DARKEN evicted a, "WHY COULDN'T III HAVE WRITTEN THIS BRUTAL DARLING OF A BOOK??!!" tantrum out of me the moment I I finished the last page of AND I DARKEN.
The great thing about AND I DARKEN is that it delivers.
OH HOW IT DELIVERS! The blurb proclaims that this is a "feminist Game of Thrones for YA readers" and to me that is an incredibly hard claim to deliver and make true. AND I DARKEN though, not only meets the claim/boast head on but smashes it to pieces in the best way possible.
Kiersten White has an amazing talent for weaving beautiful writing around stunning storytelling and she does it beautifully and with ease in here!
The writing sucks you in so much and I felt like I could taste everything in the novel the writing was so lush.
Lada. OH LADA, HOW I LOVE THEE.
AND I DARKEN's blurb claims that Lada is the very epitome of the anti-hero protagonist and I was skeptical o see if this was the case because how many times do you read books describing their characters like that only to be disappointed that they're not?
"On our wedding night," she said, "I will cut out your tongue and swallow it. Then both tongues that spoke our marriage vows will belong to me, and I will be wed only to myself. You will most likely choke to death on your own blood, which will be unfortunate, but I will be both husband and wife and therefore not a widow to be pitied."
Lada is cold, angry, vengeful, cruel, hateful...the list goes on and on, but she's also human, which makes the bad parts about herself more believable and her good bits shine even brighter.
She also loves her brother - Radu - so much and reading about their flawed but believable relationship was one of the things I loved best about the novel. Lada has a heart that loves so fiercely and which turns her vicious character from a cliché villain to a human.
OH AND THE HUMOUR. (!!!) I laughed SO MUCH while reading this book!
It really lightened the otherwise rather heavy pace that AND I DARKEN ran at and those moments in it that made me giggle and laugh out loud were wonderful!
"I am no slave. This is my city! "
Lada snorted. "And I am the queen of Byzantium." She turned on her heel, pulling Radu along.
"I will see you again!" the boy called. It was not a question, but a command.
"I will burn your city to the ground." Lada called back over her shoulder."
This book is brutal and bloody as it is breathtaking and beautiful.
I loved it and hope you will too!
::Thank you Random House NZ for the review copy!::
WHAT HAS BEEN YOUR FAVOURITE BOOK(S) OF 2016 SO FAR?!? HAVE YOU READ AND I DARKEN??