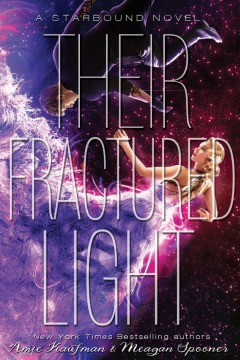 Publisher:
Allen & Unwin
Release Date:
December 1st 2015
Source:
From the Publisher!
Purchase:
Mighty Ape
|
The Book Depository
|
Amazon
Read it in: 5 hours
Word Rating: *happy sigh*
A year ago, Flynn Cormac and Jubilee Chase made the now infamous Avon Broadcast, calling on the galaxy to witness for their planet, and protect them from destruction. Some say Flynn's a madman, others whisper about conspiracies. Nobody knows the truth. A year before that, Tarver Merendsen and Lilac LaRoux were rescued from a terrible shipwreck—now, they live a public life in front of the cameras, and a secret life away from the world's gaze.





Now, in the center of the universe on the planet of Corinth, all four are about to collide with two new players, who will bring the fight against LaRoux Industries to a head. Gideon Marchant is an eighteen-year-old computer hacker—a whiz kid and an urban warrior. He'll climb, abseil and worm his way past the best security measures to pull off onsite hacks that others don't dare touch.





Sofia Quinn has a killer smile, and by the time you're done noticing it, she's got you offering up your wallet, your car, and anything else she desires. She holds LaRoux Industries responsible for the mysterious death of her father and is out for revenge at any cost.





When a LaRoux Industries security breach interrupts Gideon and Sofia's separate attempts to infiltrate their headquarters, they're forced to work together to escape. Each of them has their own reason for wanting to take down LaRoux Industries, and neither trusts the other. But working together might be the best chance they have to expose the secrets LRI is so desperate to hide.
My relationship with the Starbound trilogy has been complicated but it's so weird to think that it's now over! The first book, THESE BROKEN STARS, I had serious trouble with first time round, but the second time I pushed through it and really enjoyed it. The second book, THIS SHATTERED WORLD was an instant love and is still my favourite of the trilogy, while THEIR FRACTURED LIGHT, this book fits somewhere snugly in the middle of my enjoyment of the series.
Leaping right into it: Their Fractured Light wasn't my favourite book of THE STARBOUND TRILOGY. It lands in second place as it was a thrilling adventure overall, but the characters lacked a little for me in this one and I couldn't fully get behind them and the romance. By themselves, Sofia and Gideon are interesting, complex characters, but together, my interest in them kind of withered and I grew a little bored with their romance.
I felt that the high that THIS SHATTERED WORLD had risen too, deflated somewhat in THIS FRACTURED LIGHT. The characters were good...but not great; the story was one I followed eagerly but wasn't as transfixing as in the second book...the list kind of went on. Not that it wasn't good it just...lacked just a tiny bit.

But hey! There ARE positives and things I loved about this book! Like how I adored how all the main characters from the past two books got woven into this book and how I was always on the edge of my seat because something dangerous and risky and exciting was ALWAYS happening!
On the ending: I'm happy to say, that THEIR FRACTURED LIGHT ties up the trilogy delightfully!! The ending left me satisfied and happy and I didn't feel frustrated or let down at all which is truly all a bookworm asks for when reading a series ender.

ALSO CAN WE JUST COMMENT ON THAT COVER BECAUSE OMGGGGG THAT COVER. I want that dress! I imagine it would be like wearing a ball gown that feels like fleecy pyjamas! IT'D BE LIKE BEING WRAPPED IN A DUVET BASICALLY.
::Thank you Allen & Unwin for the review copy!::
Actual rating 3.5!
WHAT'S A PERFECT SERIES ENDER YOU'VE READ RECENTLY?? OHHH AND THE MOST IMPORTANT QUESTION OF ALL!!!! WHAT'S YOUR FAVOURITE COVER OF THE STARBOUND TRILOGY??????? FOR THE PEOPLE THAT HAVEN'T READ THE SERIES I HAVE KINDLY PUT THE COVERS DOWN BELOW! (I am very kind, I know. *bows*)