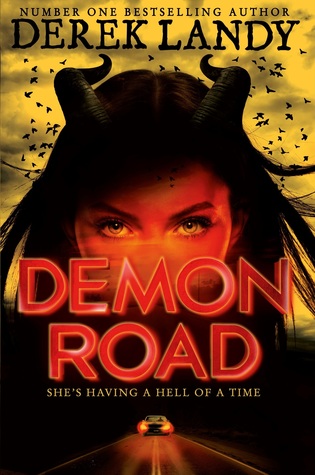 Publisher:
Harper Collins
Release Date:
August 28th 2015
Source:
From the publisher
Purchase:
Mighty Ape
|
Book Depository
|
Read it in:
4 1/2 hours
Word Rating: Creepy with a side of FABULOUS
Full of Landy's trademark wit, action and razor sharp dialogue, DEMON ROAD kicks off with a shocking opener and never lets up the pace in an epic road-trip across the supernatural landscape of America. Killer cars, vampires, undead serial killers: they're all here. And the demons? Well, that's where Amber comes in...Sixteen years old, smart and spirited, she's just a normal American teenager until the lies are torn away and the demons reveal themselves.





Forced to go on the run, she hurtles from one threat to another, revealing a tapestry of terror woven into the very fabric of her life. Her only chance rests with her fellow travellers, who are not at all what they appear to be…
::Thank you to Harper Collins for the review copy!::
THINGS THAT WERE FANTASTICALLY BRILLIANT AND THEREFORE I LIKED VERY MUCH
+ Amber!
Amber wasn't perfect, she could be annoying, make stupid decisions and be as exasperating as a lid of a jar that just. Won't. Come OFF., but I think that's why I liked her so much! She was also brave, compassionate, smart and made an awesome demon! ;)
+ Other characters!
NONE of these characters were boring although *cough* they reminded me slightly of the Skulduggery Pleasant at times...not that I minded at all though! ;)
+ That ending!!
OMG THAT ENDING. *brain blows up* That whole book was worth reading JUST for the ending!
+ The CAR.
Hehehhehehe, that car made me laugh SO much! It very definitely had a life of it's own and was probably one of my favourite things about DEMON ROAD.
it ate people a little bit like this
+ THAT ENDINNNNNNNNG.
Derek Landy just
knows
how to write good endings that end on painful cliffhangers and make you want to stick a fork in your eye. URGHHH. Where is book two?! Please don't tell me I have to wait another year!
+ It didn't have the dry humour that Skulduggery Pleaseant has, but it was still funny!
And I laughed a lot which is ALWAYS a good sign!
THINGS THAT MADE ME GRUMBLE AND EVER SO SLIGHTLY CRANKY
+ I couldn't help feeling that it was WAAAAAY to long.
I thought at least 100 pages could've been chopped BUT THAT'S JUST ME. I just found it seemed to take my attention away from the story but it was still good!!
+ I loved the killer car but...
was
a)
disappointed that the way it ate people was kind of boring and
b)
I felt like half of the book was just spent IN the car and the other half actually running around having adventures and killing things and avoiding being killed themselves!
+ It definitely lacked the humour that was so bountiful in Skulduggery Pleasant.
It was still funny, but not
AS
funny and the humour didn't feel fluid but a little forced. I still enjoyed it, but I was a bit sad that the Skulduggery edge didn't seem to be there.
+
I found it to be quite slow
in a way a book can be slow when it's based around a girl trying to find a way to stop her demon parents and friends trying to eat her while road tripping with a guy who owns a car that is literally alive and likes to eat people and other awesome things happen, but for about 95% of the book I felt like we were going at this really slow steady pace and then BAM! That last 5% was so action packed and thrilling and just AMAZING and really, really fast paced that I thought the whole book is worth reading just for the last 5%.
+ It's set in America.
So one of the things I adored about Skulduggery Pleasant was that it was set in Ireland! IRELAND!! It was different! It was refreshing! I loved it! And while there is absolutely nothing wrong about setting a book in America...90% of the YA books I read are set in America.
I LOVED this book! Eeeeek where is the next one??!!
Sure, I had a few problems but in the end this book is REALLY good. GO AND READ IT NOW!
Yes! Giveaway!
Harper Collins NZ
has very kindly given me the opportunity to give away ONE copy of Demon Road!
+ New Zealand residents only (sorry international peeps!)
+ NO CHEATING. (I check!)
+ Harper Collins will mail a copy to you so if you win you must be comfortable in giving me your postal address to pass on!
+ Giveaway is open for a week! (Hurry up and enter already!)
a Rafflecopter giveaway
Read anything by Derek Landy?