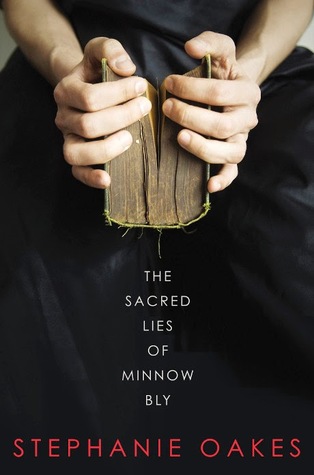 Publisher:
Harper Collins
Release Date:
July 1st 2015
Source:
From the publisher in exchange for a review
Purchase:
Mighty Ape
Read it in:
3 hours
Word Rating: Beautifully disturbing
The Kevinian cult has taken everything from seventeen-year-old Minnow: twelve years of her life, her family, her ability to trust.





And when she rebelled, they took away her hands, too.





Now their Prophet has been murdered and their camp set aflame, and it's clear that Minnow knows something—but she's not talking. As she languishes in juvenile detention, she struggles to un-learn everything she has been taught to believe, adjusting to a life behind bars and recounting the events that led up to her incarceration. But when an FBI detective approaches her about making a deal, Minnow sees she can have the freedom she always dreamed of—if she's willing to part with the terrible secrets of her past.





The Sacred Lies of Minnow Bly is a hard-hitting and hopeful story about the dangers of blind faith—and the power of having faith in oneself.
::Thank you Harper Collins NZ for giving me a review copy!::
"I am a blood soaked girl."
OH GOSH. This book is unlike any book I've read before.
It's beautiful, it's strange, it's disturbing, it's interesting, but most of all, it's
heart wrenching
.
The Sacred Lies of Minnow Bly
is unusual in the
best possible way
. It's a modern retelling of the not very well known fairy tale
The Handless Maiden
, it's got a cult in it's background and it's set in Juvie. It was a complete breath of fresh air and I loved EVERY minute of reading it!
Can we please talk about how beautiful the writing is??
The writing is STUNNING
. It's beautiful but got this really gothic edge and it's slightly disturbing at the same time and it's just
excellent
reading! I felt so in the story while reading it
Minnow was a wonderful heroine. The way she deals with everything awful happening to her was so admirable and not ONCE did she come off as whiny or self pitying. The way she coped without her hands and how she was just trying to be normal, or as normal as she could be in the situations she was in was amazing and I had so much respect for her.
I had absolutely NO patience for Jude. I thought he was annoying, flat and didn't add ANYTHING to the story at all. I did wish we kind of knew a bit more of what happened to him though before the book ended, though.
I LOVED ANGEL SO MUCH.
SO SO SO MUCH! Everyone should read this book just because of Angel! *sniffles* Angel was definitely my favourite character and I would read a book JUST about Angel if it was available! To me, Angel's situation was almost more tragic then Minnow's and I felt so sad that society had just written her off as this psychopathic kid when she wasn't, because how many kids are there out in the real world like Angel who've been treated unfairly? It made me horribly sad.
The cult freaked THE HECK out of me. PLUS, I was reading this late at night which made it seem even more spooky! The way the Prophet brainwashed everyone and the way everyone, including Minnow (at first) looked up to him and obeyed his every word was horrifying but at the same time mesmerizing. I really, really, REALLY loved the cult aspect of the book, and can't applaud the author enough for putting it in.
This book was almost prefect apart from that rather crappy ending.
It ended on such an odd cliffhanger that
wasn't
a cliff hanger but
was
a cliff hanger at the same time, and I felt really frustrated after finishing it. I WANT MORE!!
Overall, this book was brilliant! A really unique book that had a lot of things you don't see often in YA, plus a awesome spin on a not very well known fairytale. Add beautiful writing, a flawed but interesting cast of characters with many, many dimensions and you have an almost perfect novel!
ACTUAL RATING 4.5/5
SO TELL ME! Have you read The Sacred Lies of Minnow Bly? Heard about it? Want to read it? (The answer to that is, "YES!", obviously!) And for the peeps that HAVE read this book...WHAT DO YOU THINK ABOUT ANGEL??!!!
Have you read any YA books set in Juvie? Recommend me one??