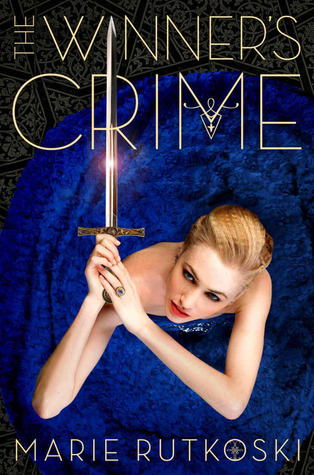 THE WINNER'S CRIME BY MARIE RUTKOSKI
| ★★★★ |
Purchase |
OMG SO MUCH SEXUAL TENSION. I pretty much spent the whole book thinking
AHHH CAN'T KESTREL AND ARIN JUST KISS ALREADY??!!
I definitely enjoyed this WAY more then
The Winner's Curse
which I found an interesting but mediocre read, so I was stoked on that fact. Characters were much better written and the pacing was THRILLING and all in all a really great read apart from the fact I wanted to smush Kestrel and Arin's faces together every time they were in the same room together.
I've come to the conclusion that I desperately need the last book,
The Winner's Kiss
(WHICH, btw, I think is a god-awful title), LIKE I NEED AIR.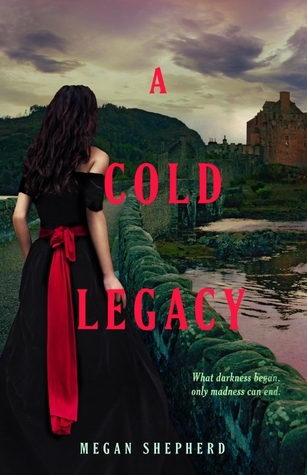 A COLD LEGACY
BY MEGAN SHEPHERD |
★★★★★ | Purchase |
ASDFGHJKL OMGOMGOMGOMGOMG *faints* *burbles* THIS BOOK WAS SO AMAZING!!! *flails* After being really impressed with Shepherd's former books in this trilogy, I was really looking forward to
A Cold Legacy
but had
no
idea going into it, how much I'd love it!! Shepherd's writing is SUPERB; all creepy and gothic and beautiful, but still packing a punch to knock you into next week.
We FINALLY left the dratted love triangle behind and Juliet know knows who she really loves (WHO I KNEW FROM THE MOMENT HE WAS MENTIONED IN BOOK ONE sighhhhhh) and is even planning her wedding. A Cold Legacy retells the story of Frankenstein AND IT IS AMAZING. Just read the series, ok?! That's all I have to say.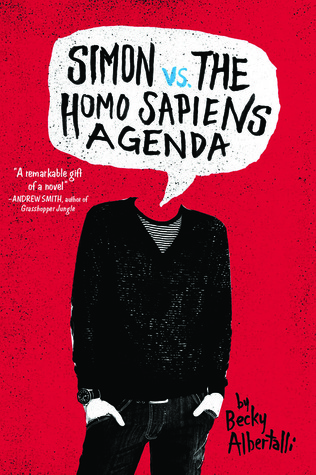 SIMON VS. THE HOMO SAPIEN AGENDA
BY BECKY ALBERTALLI | ★★★★
1/2 | Purchase |
I wasn't actually keen to read
Simon vs. The Homo Sapiens Agenda
(because you know, I only have just a million other books I need to read NOW) till I saw all the glowing reviews start pouring in, and then I decided I needed this book in my life. I managed to snag myself a copy (FOR WHICH I AM FOREVER GRATEFUL YOU LOVELY PUBLISHER YOU) and from page one I fell completely head over heels for this BEAUTEOUS little book! MY FEELS PEOPLE MY FEEEEEELS. THEY GOT COMPLETELY BLOWN TO SMITHEREENS.
To sum up this book in just one word: ADORABLE. ADORABLE ON ADORABLE WITH ADORABLE ON THE SIDE PLUS EXTRA LASHINGS OF ADORABLE. *breathes heavily* The characters are so cutttte and Simon is ADORABLE and SWEET and FUNNY and ADORABLE! *flails* I basically EVERYTHING about this book apart from a little toad called Martin who I want to hunt down and kill slowly for being such a little worm.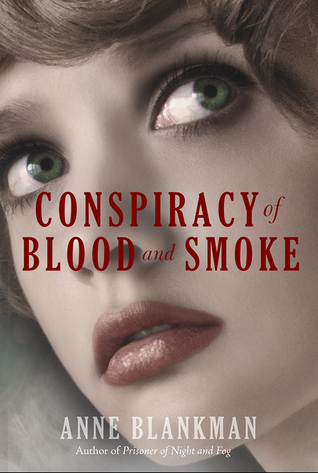 CONSPIRACY OF BLOOD AND SMOKE
BY ANNE BLANKMAN |
★★★★★ | Purchase |
I read
Prisoner of Night and Fog
last year and liked it, but wasn't impressed or wowed.So I was cautious going into the sequel but sheeeeesh, THIS BOOK IS SO MIND BOGGLINGLY AMAZING IT ALMOST BROUGHT ME TO TEARS. I couldn't pull myself away from the writing, the characters were
so
much better written and the ROMANCE! OMG THE ROMANCEEEE. *squees* One of my problems with
Prisoner of Night and Fog
was that I felt zilch chemistry between Daniel and Gretchen but in
here
?! ASDFGHJKL SO GOOD. They were just so good for each other and made each other better and you could feel the chemistry pouring off them...it was just really, really, really lovely to read.
THIS IS WHAT AMAZING HISTORICAL FICTION IS. AND YOU ALL NEED TO GO AND PICK UP THIS SERIES NOW.
HALF WILD
BY SALLY GREEN |
Back Burner | Purchase |
Well. You have no idea how sad this makes me putting this book on the back burner. After I loved
Half Bad
SO MUCH, it hurts SO MUCH to not be enjoying
Half Wild
.
Half Bad
to me was this breath of fresh air in the YA world full of such original writing and prose and adorably broken characters and it was about witches! WITCHESSSSS. MY FAVOURITE THINGS.
But no matter how much I've tried, I can't get into Half Wild. And when I'm not hissing in frustration over not being able to finish it, I'm dreading picking it up because I know I'm just going to be staring at the pages not seeing anything.
So Half Wild is going on the backburner for now. If I want to love it as much as I did the first book (and I'm going to, it's just that I'm not in the
mood
for it) I'm leaving it alone for a little why. *sad sigh* WHY CAN'T I JUST LOVE EVERY BOOK I READ!
THE MIME ORDER
BY SAMANTHA SHANNON |
Back Burner | Purchase |
Seeing how much I ADORED
The Bone Season
, you'd think my of
The Mime Order
would hit the moon right?? Or at least just leave earth behind, yes? But sadly, due to my horrid reading slumpiness, I think, I just
could not
get into this book!
My brain just freezes every time I open it up to read, and I'll read a whole page and then not remember for the life of me what I just read. And it's KILLING me!
I so want to love this book and forcing myself to read it, just isn't working, so I'm going to take a break from it and come back in a couple of months, hopefully.
What's a book that's made you go ASDFGHJKL recently?!
Read any books in this post?!