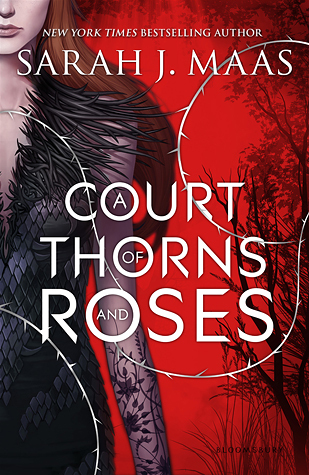 Publisher:
Bloomsbury
Release Date:
May 5th 2015
Source:
NetGalley for review! THANK YOU FROM THE BOTTOM OF MY HEART BLOOMSBURY I LOVE YOU FOREVER
Purchase:
The Book Depository
Read it in:
4-5 hours
Word Rating: WORDS?! WHAT ARE WORDS?! I HAVE NO WORDS!!
A thrilling, seductive new series from New York Times bestselling author Sarah J. Maas, blending Beauty and the Beast with faerie lore.

When nineteen-year-old huntress Feyre kills a wolf in the woods, a beast-like creature arrives to demand retribution for it. Dragged to a treacherous magical land she only knows about from legends, Feyre discovers that her captor is not an animal, but Tamlin—one of the lethal, immortal faeries who once ruled their world.

As she dwells on his estate, her feelings for Tamlin transform from icy hostility into a fiery passion that burns through every lie and warning she's been told about the beautiful, dangerous world of the Fae. But an ancient, wicked shadow grows over the faerie lands, and Feyre must find a way to stop it . . . or doom Tamlin—and his world—forever.

Perfect for fans of Kristin Cashore and George R. R. Martin, this first book in a sexy and action-packed new series is impossible to put down!
I basically have NO WORDS when it comes to
A Court of Thorns and Roses
. Every time I start thinking about, I'm suddenly overcome with word vomit and any intelligent thoughts that are in my head turn to mush. So this review is just a mash of how much love I have for this book
I know a lot of people that have read ACOTAR and TOG have measured them up against each other, or have been disappointed that ACOTAR wasn't like TOG, but I honestly think it's wrong to measure them up against each other, as they are, to me, SO different from each other, and I LOVED that.
THINGS THAT MADE ME WANT TO HICCUP RAINBOWS IN SUPREME HAPPINESS
Feyre being unable to read!!!
I thought this twist WAS. AMAZING. Of all the Beauty and the Beast retellings I've read, the main character has always loved reading...and Feyre being unable to just made me go speechless with OMG THAT IS SUCH A FABULOUS TWIST LET US DANCE THE CHICKEN DANCE IN CELEBRATION.
CHARACTERS!
Feyre was awesome. Feyre was brilliant. FEYRE WAS FABULOUS. She made beautiful art that spoke in the way she could not, and she would do anything for the people she loved. Tamlin was most of the above three although his claws crept me out slightly. And the fact that he was at least a few hundred years older then Feyre but shhh. Lucien was pretty much EVERYTHING IS AWESOME. (I am soooo tempted to put that gif in here, BUT I'M NOT. Mainly because I hate that song with a passion and also it will cling to my brain for
days.
) Lucien was probably my favourite character. He needed a warm blanket and cuddle and for the world to stop being so mean to him.
The Wordbuilding!
Maas did it again and I am jealous...yet AGAIN.
How it was obviously a retelling of a lovely fairytale, but at the same time managed to stand on it's own two feet easily as it's own story!
THE TEENY TINY COUPLE OF GRUMBLEY MUTTERINGS I HAD
I really, really, REALLY didn't like Rhys.
There's evil characters that you can root for because they're nice evil (please tell me you get this) but then there's evil that is just evil and you just want them to go drown quietly somewhere. but I just couldn't get over how
he physically and mentally hurt Feyre...and that is NOT right in ANY way.
It worries me when I read reviews by people who want Rhys as a love interest more then Tamlin as it just seems...wrong to me. He sees Feyre as an interesting toy or object and I just hated that. By the end of ACOTAR his character had improved slightly, but not enough that I had respect for.
I have to admit that the first 70% was just a smidgen on the quiet side.
It focused on the romance and the world building - which was frabjous and I loved reading it! - but the last 30% is just SO mindbogglingly AMAZING, full of blood, action, and awesomeness which I DID enjoy more. Maas writes such amazing action scenes that I felt a little ripped off that I only got 30% of that awesomness.
A SMATTERING OF WORRIES FOR BOOK TWO
I'm terrified that book two will become a messy angsty love triangle
and that Feyre will start to fall for
Rhys. If that actually happens, I WILL not only have the biggest bookish ragethon on the planet, I will also give up on the series.
Talking about book two, ACOTAR was tied up SO well, with no traily story ends whatsoever, apart from one, that I'm not really sure why it needs to be a trilogy. That's not because I don't want the series to carry on (I DO! I DO! I DO!), but I'd much rather have the memory of having ACOTAR being that beautiful standalone, then have it tainted with the memory of the terrible sequels that followed (THEY'RE NOT GOING TO BE TERRIBLE THOUGH, THEY'RE NOT, FINGERS CROSSED!)
Is ACOTAR better then TOG?! I really don't think it's fair to measure them up against each other. In some places, YES ACOTAR is better then TOG, but at the same time, YES TOG is better in places then ACOTAR was!
SO! TALK TO ME IN THE COMMENTS!! HAVE YOU READ ACOTAR?! IF YOU HAVEN'T, ARE YOU LOOKING FORWARD TO IT?!?! IF YOU'VE READ IT...TELL ME WHAT YOU THINK! (And also take note on the fact that not a single gif is slipped into this review. CONGRATULATE ME. IT WAS VERY HARD WORK.)