Waiting on Wednesday is a weekly meme hosted by
Breaking the Spine
and spotlights upcoming book releases that readers are impatiently waiting to get their greasy little mits on (think me)!
This Week I'm Waiting On...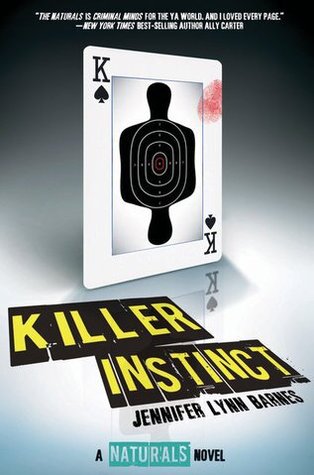 [click the cover to go to the goodreads page]
Seventeen-year-old Cassie Hobbes has a gift for profiling people. Her talent has landed her a spot in an elite FBI program for teens with innate crime-solving abilities, and into some harrowing situations. After barely escaping a confrontation with an unbalanced killer obsessed with her mother's murder, Cassie hopes she and the rest of the team can stick to solving cold cases from a distance.

But when victims of a brutal new serial killer start turning up, the Naturals are pulled into an active case that strikes too close to home: the killer is a perfect copycat of Dean's incarcerated father—a man he'd do anything to forget. Forced deeper into a murderer's psyche than ever before, will the Naturals be able to outsmart the enigmatic killer's brutal mind games before this copycat twists them into his web for good?

With her trademark wit, brilliant plotting, and twists that no one will see coming, Jennifer Lynn Barnes will keep readers on the edge of their seats (and looking over their shoulders) as they race through the pages of this thrilling novel. ~blurb from goodreads
.
Killer Instinct hits the shelves November 4th!
Why I'm Waiting?!
Scuse me while I just go and SOB my eyes out in my little corner. NOVEMBER IS SO FAR AWAY. The first book in this loveeeely series,
The Naturals
, was one of my favourite reads of 2013 as it was just PURE FRABJOUSNESS. It had blood, murder, snark, blood, murder, mystery, blood, murder, cool talents and a romance that didn't take over the whole book (which is as rare as blue and pink rabbit is these days). And yes, I do love my blood and murder (and, no, I am not displaying psychopathic qualities). I AM SO EXCITED FOR
KILLER INSTINCT
!!!!!!!!!!!!!!!!!!!!!
You can bet ALLLLL your book money in your piggybank that I will be the first one to place a hold on this little munchkin when it FINALLY arrives at our library. It's a safe bet, I promise you.
What are YOU waiting on?! (pop quiz: does it feature blood?! 10 points if it does!)