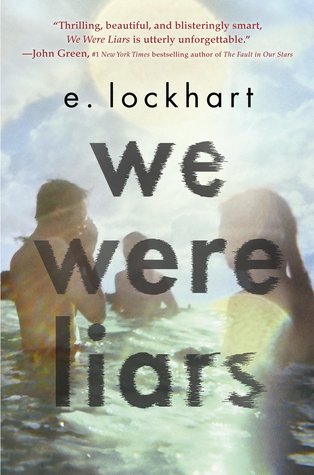 Publisher:
Delacorte Press
Release Date:
13th May 2014
Pages:
240
Source:
Library
Purchase:
The Book Depository
Read it in:
2 hours
Word Rating:
Liar. Liar. Liar.
A beautiful and distinguished family.
A private island.
A brilliant, damaged girl; a passionate, political boy.
A group of four friends—the Liars—whose friendship turns destructive.
A revolution. An accident. A secret.
Lies upon lies.
True love.
The truth.

We Were Liars is a modern, sophisticated suspense novel from National Book Award finalist and Printz Award honoree E. Lockhart.

Read it.
And if anyone asks you how it ends, just LIE. [blurb from goodreads]
.
Dear We Were Liars,
Let's imagine my feels as a hazelnut

(I know. Of all the dramatic things I could've picked to show my feels...I picked a hazelnut. Gosh I have an intelligent brain).
You looked like a book that the whole world had raved about, but when I opened you up, you transformed into a hammer (this is getting humiliating.) and proceeded to beat me, bash me, crack me, crunch me, and powder me (remember: I'm still a hazelnut) into a tiny pile of nutty emotions.
Your writing was so beautiful and poetic it brought tears to my eyes. It sang and danced and made ghostly pictures out of air right in front of my eyes and it smelled of marshmellow and sharpie with hints of longing and envy and cracked beautiful on the edges. And I swayed to it's hypnotic beat, utterly transfixed, eyes wide and dark.
Your characters made me blush with excitement, gasp and sigh wistfully, wanting to be to be on the island with those beautiful liars, grin so hard my lip split and still I smiled through the thread of blood trickling down my chin. I laughed, sang, danced, and sat with you while you talked of what I felt was magic.
Then you ended. 1.) Why did you end? You were supposed to go on forever you beautiful liars, living your simple and tangled lives. 2.) Why did you have to end like that? My stone heart broke but it was to late -- you were gone. Burnt to cinder, all was left was ashes that were blown away by my heavy gasps of shock, and slipped out of my desperate grabbing fists and disappeared into the stars leaving me with memories, bitter memories now, tinted with smoke and tears. You smashed me with one last smash and took my heart, before mashing the rest of me with cocoa and tears and turning me into hazelnut spread.
It is one thing to take one's heart, We Were Liars, but to leave the rest behind is a completely different thing altogether.
Yours Forever (seeing as you have my heart),
Another Lying Liar [scroll down to see]
By the way,

I lied too

. I didn't love you at all. I know. I am a fantabulus liar. And I'm still a whole hazelnut. Not a powdered one. Just so you know*.
*For people confused, what I mean, is that I didn't like/didn't enjoy We Were Liars. I was annoyed at the whole book so decided to get my own back by writing a lying letter. I still think people should give it a go if they want (goodness knows, the book blogosphere is pounding it into our brains [yes, there is a little resentment in those words, BUT WHY COULDN'T I LOVE IT LIKE THE REST OF THE WORLD DID, HUH?!] times twenty million times)!!
Hope you enjoyed reading my letter as much as I had writing it!! XD
Interested in seeing any more?!