It's my first Waiting on Wednesday!! Wating on Wednesday is hosted by
Breaking the Spine
- be sure to check it out! I absolutely love everything about this meme, so hopefully I'll be doing it quite often form now on! :D
This Week I'm Waiting On...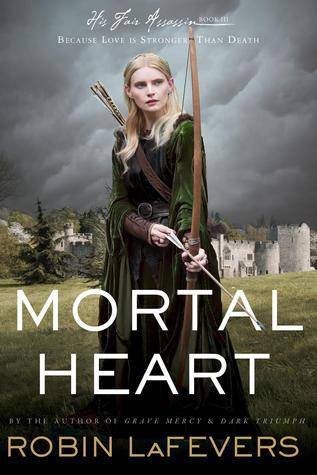 Annith has watched her gifted sisters at the convent come and go, carrying out their dark dealings in the name of St. Mortain, patiently awaiting her own turn to serve Death. But her worst fears are realized when she discovers she is being groomed by the abbess as a Seeress, to be forever sequestered in the rock and stone womb of the convent. Feeling sorely betrayed, Annith decides to strike out on her own.

She has spent her whole life training to be an assassin. Just because the convent has changed its mind doesn't mean she has.

But across Brittany, the tides of war are drawing ever nearer, with France pressuring the beleaguered duchess from all sides. Annith's search for answers threatens to rip open an intricate web of lies and deceit that sit at the heart of the convent she serves. Yet to expose them threatens the very fabric of her existence and risks an unforeseen chance at love, one that she can no longer deny. Annith must carefully pick a path and, gods willing, effect a miracle that will see her country—and her heart—to safety.
.
Mortal Heart hits the shelves on November 4th 2014!
Why I'm Waiting...
I honestly CANNOT wait till this little lolly pop comes out!! I fell in love with this series from the first page of
Grave Mercy
, the first book in the trilogy and
Dark Triumph
the second book, broke my heart and made me gasp in disbelief at all the plot twists I DID NOT SEE COMING AT ALL (coming from a girl who fancies herself a bit of a detective).
Mortal Heart
is the final book in His Fair Assassin trilogy AND I AM QUIVERING IN MY SOCKS RIGHT NOW. I cannot wait to get my sweaty little mitts on this UTTERLY FRABJOUS (I just know it's going to be frabjous, okay?!) book, but at the same time, I AM SO SCARED. I mean, what is the point of my life after one of my favourite series EVER end???!!!! This series contains EVERYTHING I LOVE...girl assassins, MURDER, beyond adorable love interests, awesome characters, POISON -yayyayyay!! - (yeeeah...to much enthusiasm, maybe?), ASSASSINY STUFF, beautiful setting, WEAPONS, POISON, FRABJOUSNESSSSSS GALORE (Look, I turned Gollum!).
When I found out the release date for
Mortal Heart
had been prolonged from like earlier this year TO NOVEMBER 4TH (can you see I'm outraged?), I felt like
DYING
, Wonderlings, DYIIIIIING. And that's how Publishers discovered how to make Ella bawl: Extend a book's release date.
Houghton Mifflin Harcourt I AM LOOKING AT YOU. *points shaking emotional finger*
What are you waiting on?! Anyone else waiting on Mortal Heart?!