Hiiiiiii Wonderlings! Apologies for the absence on the blog! :| It's the school holidays (LAST WEEK, GAAAAAHH! *sobs*) here in the Land of the Long White Cloud and I thought I would have lots of blog posting time...buuut turns out I don't. But TODAY, is Top Ten Tuesday day!! And I couldn't miss out on that, could I?! Nope, noooooway.
I'm linking up with the bookish team over at
The Broke and the Bookish
for their utterly frabjous Top Ten Tuesday meme!
Sometimes, I don't read.
I KNOW! SHOCK! HORROR! But, y'know, sometimes a bookworm needs to take a break from reading just so they can recharge their reading juices (it sounds gross, I know, but that's how I think of it). So, in typical couch potato fashion, when I'm not reading on the couch, if I'm not writing on the couch, talking on the couch, doing something arty near the couch, or messing around on the
computer
near
the couch, then most likely, I'm watching something on the couch. That's right! My life pretty much evolves around the couch or my bed!
I'm definitely a TV Show, Girl not a Movie Girl. I love nothing more then finding an amazing series and binge-watching it with either my siblings or my parents. So without further ado, here is the list.
The Comedy
(HA, HA, HA, HA, HAAAAAA!)
I love to laugh, and so comedy is quite possibly my favourite genre to watch!
Miranda, Miranda, MMMMMIIIIRRRAAAAANNNNDDDDAAAAA!!!!!!!!!!!!!!!!!!! This is OFFICIALLY my FAVOURITE thing to watch. I've watched it SO many times that my brother and I can recite WHOLE scenes and OMG, I JUST LOVE IT SO MUCH, OKAYS. Miranda is the go-to if I'm feeling down or grumpy as it always improves my mood. I've watched each of her episodes more then 30 times, so it shows how frabjous it is. I NEVER get tired of it, GAAAAAH!! MIRANDA LOVE!!!! I cannot wait till Season 4 comes out!! Miranda Hart is officially my favourite actress and hero. I most definitely have Miranda moments, and I just love how awkward she is. Everything she says and does, I definitely agree with and I shamelessly stalk everything about her online (*waves*)!
This is my LIFE.
The first season is crap to be honest, second and third quite good, but, OH, BOY, the fourth season is pure GOLD. Seriously, I was laughing so much while watching it! Rowan Atkinson is such an AMMMAZING actor (although I've never seen him laugh) and his sarcasm is FRABJOUS.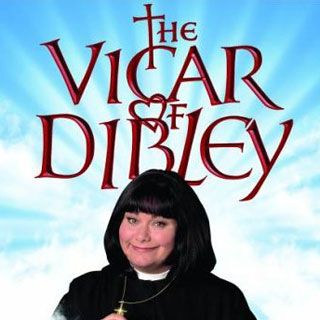 BWAHAHAHAHAHAHAHA!!! That is all I need to say, really! Geraldine and Alice's friendship is so cute and funny even though Geraldine at times wants to kill Alice, and their joke scenes at the beginning of each episode have me in stitches. GO WATCH IT.
The Historicals
(LLAMA DRAMA EVERYWHEREEEE)
I looooooove historical dramas. I'm a HUGE history nut and I just really enjoy watching and reading about historical things. Yes, the historical TV dramas are normally full of llama drama and it's all about airing each person's dirty laundry, but I just adore the clothes, the setting, the language...so that makes up for it. ;)
Downton Abbey
My Mum I watched the whole first 2 seasons of
Downton Abbey
in one weekend! We started it on a Saturday night, watched it till far to late and then watched it from early morning till mid afternoon Sunday. x) I didn't enjoy Season 3 as much as the first 2, possibly because of *COUGH*
main characters dying
*COUGH* I MEAN...THE ENDING, OMG. DESTROY MY SOUL WHY DON'T YOU. Season 4 was terrible and it really lowered my opinion of the whole series.
Y'know, the thing that happened to Anna :(
It is one thing to get desperate to try and chug out more interesting content that will catch peoples attention, but good grief, you don't have to do something deeply disturbing and out of the blue as well as crass and disgusting to one of the main characters to do it, do you? I think not. Still be watching Season 5, although it's going to take heaps of awesomesauce stuff to raise my opinion of the series.
My historical heart adores
Call the Midwife
SO much! Although Series 3 started to go down hill
(WHY DID HE HAVE TO DIE????)
it still holds a special place in my heart. :) Really looking forward to Season 4!
(BLOOD! MURDER! BADDIES! WEAPONS! SARCASM!)
Sherlock
THIS is the crime shows of all crime shows, I'm telling you!! I adore EVERYTHING about this show and ship every character. Lestrade is my favourite male character, although Mary is definitely my favourite female character. Season 3 nearly killed me, and I'm impatiently waiting for Season 4!!
(Also, I just KNOW that John and Mary are going to have a girl and that they'll name her Charlotte. Don't ask, I just know. If I'm wrong, I'll eat my green beanie.)
Yes, yes, that's only six TV shows, but those are the ones I generally adore (not so much on the Downton Abbey front :|), and besides, I have to READ, don't I?!
Link me up to your TTT lists!! Seen anything on mine that you love?! I want to hear it!!