Stacking the Shelves is hosted by the lovely peoples over at Tynga's Reviews! Basically, you recount all the books you got over the week! Be they physical or virtual, they can be books for review, from the library, bought, given to you - the sky's the limit! Pop over to their post about it for more info!
I went to TFIOS movie with my BF last Sunday! I laughed during all the sad scenes which didn't really come as a surprise. ;) To read my full review of it, it's HERE. I got over my cold which is GREAT. My brain is finally feeling more like a brain instead of some unknown substance, so yay!
I accidentally stumbled across a MASSIVE spoiler on the last book of one of my favourite book series EVER. The book is basically ruined for me now, which I was SO mad about. I spent a couple of hours ranting and raving and basically planning the spoiler person very painful death before realizing that the more time I spent death plotting the less time I ad to read. So I stopped planning evil genius murder plans and read Girl in Reverse instead. :)
I'm still in a reading slump, so any book recommendations would utterly frabjous! Otherwise, that's pretty much my week! :)
Click on the covers to go to the Goodreads pages!
I haven't been to the library once this week, which is not only terrible, but quite odd as I normally pop into the library about 3 times a week on average at least. So as I didn't do a STS post last week, I'll put the little darlings I got last week in this post!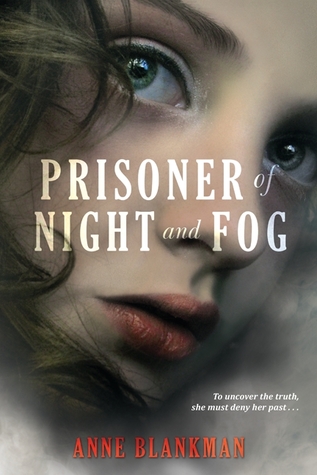 Every Word: *shrieks* I finally got my hands on this little jewel!!! Ever since I read Every Breath, the first book, I've been counting down the days till Every Word came out! I read it in about 2 hours tops, and gosh, peoples, THE FEELS. I just can't say anything as I'm just so speechless in it's frabjousness! Ellie Marney, you are a super hero.
Prisoner of Night and Fog: I enjoyed this one...kinda. It had it's good and it's bad, but overall it was a decent read.
Deep Blue: Still working through this one! I'm finding it very...fishy, I think is the word. And rather childish as well. :( Don't know if I'll finish it.
Click on the covers to their Goodreads pages!

Altaica: The cover is...lets face it: quite creepy. I'd hate to be on the wrong side of that girl on the cover.
The Moment Collector:
I'm 16% through this one and quite enjoying it so far! It's very refreshing to have a MC that thinks before she does something!
Witch of Salt and Storm: Witches. MC's called Avery Roe. Witches. Magic. Murder. Witches. Ooooh, yes please!! (Incase you haven't realized yet, I love witchy stuff.)
Appaloosa Summer: Okay, I admit it: I requested this book more out of interest of the title and the author's name then out of interest of the blurb. Does anyone know what 'Appaloosa' means?? I'm going to have to google it! ;)
The Wonder: Eeeeeek!! I was so happy when I got approved to review this one!! After reading and adoring the first book, I am beyond excited to read the second book, especially as the first one ended on such a cliff hanger!! Plus, being the massive Alice in Wonderland nut I am, it means I get to visit Wonderland again!
***Thank you Netgalley and Publishers for letting me review these pretties!!!***
Emily @ The Loony Teen Writer talks about the different types of 5 star ratings. I could not agree with this girl more!
Allie @ Little Birdie Books informs us on the Blogger Rules That Must Be Obeyed Or Else
Skylar @ Life of a Random is holding her first giveaway!! And guess what she's giving away?! SIGNED BOOKMARKS!!
Cait @ Notebook Sisters tells us 30 YA books that changed her world
Annnnnd, that's it, folks!! My week in a nutshell! Um...or maybe a blog post... ;)
Link me up, wonderlings!! What's in your STS????!!! Have you got anything from my stack???