It's my first time participating in Top Ten Tuesday hosted by
The Broke and the Bookish!
Pop over to their blog to learn more about it! This weeks topic is:
Top Ten Books I Almost Put Down But Didn't.
When I got this book out of the library, 1) I had no idea it was a sequel, and 2) it was written in poetry. THE HORROR. I HATE BOOKS WRITTEN IN POETRY. Weirdly enough though, I actually really enjoyed this one. I almost gave up at the beginning, but pushed on until I realized I was starting to enjoy it! Once I got past the poetry hitchedness (is that even a word?) and some things that were a bit tricky to understand because I hadn't read the first book, this book and I became good friends. ;)
OH MAN. I still regret the hours I spent on this book. I'd thought I'd adore it so much I'd want to marry it, buuuuuut instead, I hated it. In fact, I hated it so much I wrote a letter to it. Anyone interested in me posting it on the blog? Do not waste your time with this book. You will regret it.
The Things We Did For Love
THIS BOOK WAS SO DEPRESSING. EVERYONE DIES. THE END. DON'T READ IT.
After ADORING Poison Study and Touch Of Power, I thought I'd love this one. Wrong! From the first chapter, I struggled and struggled, AND STRUGGLED through this book like it was setting cement. I finished it, just, and was disappointed...but also really relieved it was over. I wanted to DNF more times then I could count.
Severed Heads, Broken Hearts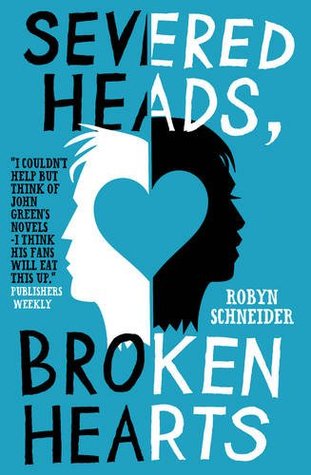 This book was great...until the middle then it went down hill so fast, like you wouldn't believe. Was so disappointed that I almost gave up but I did want to see what would happen in the end so I finished it and still disliked it strongly.
If there's ONE thing you need to know about me, is that I HATE flash backs and switching chapters. This book was full of them. Throw in annoying characters, no plot, and ta daaa! You get Pivot Point. Which was a pity, as I LOVED her book, The Distance Between US. Nearly DNF in the middle, but struggled on to the end.
I kinda liked the first book, and I only read this one (the sequel) because I was curious to see what would happen to Alice/Kate. Unfortunately, this book and I did not get on. I really, really, REALLY disliked Alice/Kate and she was just...silly. Yep. That's the word. I almost gave up about 3/4 way through, but I really wanted to see what happened to Alice/Kate in the end, so I pushed on. It was a waste of my time.
I only got this book out of the library because I'd heard it was good and
very, very, VERY funny.
It wasn't. The humour wasn't great at all, and I didn't like the main character Lex. While I like characters that aren't typical Mary Sue's, I don't like bullies either. I felt like Lex's bullying
behaviour was a stupid excuse 'because she felt different'. Listen, girl, you might not know this, but everyone feels awkward or different at some time in their life. Just deal with it.
I think the only reason I didn't put this book down, was because it was pretty short. But it was CONFUSING. Nothing made sense, and it was just a really, really, REALLY weird book. Unsatisfying too. I almost put it down at the end, but managed to carry on to the finish line.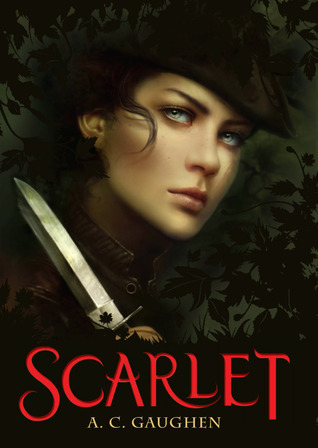 This book is the worst on my list. I just HATED it. It had one of the worst love triangles I have
ever
read in my whole life and COMPLETELY ruined the tale of Robin Hood for me. In Scarlet, Robin (who goes by 'Rob' *pukes*) is abusive, Scarlet is anorexic (she throws up almost everything she eats, and when she does eat, only takes a few bites, before she says she's 'full'. Yet somehow even without hardly eating anything, she still has the energy to fight and walk/run everywhere without feeling tired or dizzy. THIS DOES NOT HAPPEN IN REAL LIFE. Man, if I went without
one
meal, I wouldn't have the energy to finish my
schoolwork,
let alone fight to the death! *shakes head* If you haven't guessed yet, I care about food very much. I almost gave up reading this so many times, but I just kept going, hoping it would get better. Obviously, it didn't. I still mourn the hours I lost reading this book.
That's my ten! Has anyone else read any of my list?! Leave a link to YOUR Top Ten Tuesday!