Stacking the Shelves is hosted by the lovely peoples (I'm using that word to much lately...) over at Tynga's Reviews! Basically, you recount all the books you got over the week! B
e they physical or virtual, they can be books for review, from the library, bought, given to you - the sky's the limit! Pop over to their post about it for more info!
From the library I got...
Siege and Storm:
Read Shadow and Bone (the first book) a couple of weeks ago and looooooved it, but I've started Siege and Storm and urmmm...it's not great so far. Hopefully it will become better later on!
The Raven Boys:
I got this out of the library a few months back, but never got round to reading it, but I got it out again today and this time I'm determined to read very word of it!
Code name Verity:
I've lost count how many times I've tried to read this book and given up, before I'm halfway through. More then the toes on both my feet that's for certain. I'm going to try and finish it this time round, though!
The Other Life:
I confess that the thing that drew me like a butterfly to honey (the book has a butterfly on it, haha, gettit?) to this book is it's lovely, lovely cover. IT'S SO PRETTY. So I'm quite keen to start it and think I'll quite enjoy it.
The Farm:
I don't think I read enough scary stuff, and this book definitely looks creepy! it does have vampire elements, which I'm not sure about (I LOATHE vampire stuff) but it does have an interesting concept, so we'll see how it goes.
Postcards From No Man's Land:
This sounds so good! Plus, parachutes on a cover is always a bonus, right? Riiiight.
The Girl Who Circumnavigated Fairyland in a Ship of Her Own Making: Seen a lot of praise for this book, so when I saw it at the library, today, I snatched it up before you could say, "Muppet." I'm hoping it'll become a much loved favourite. I mean anything with a Main Character called September is going to be frabjous, isn't it?!
The Fault in Our Stars:

When I read TFIOS a wee while after it came out, I didn't like it. Not one bit. However, I am getting very, very, VERY tired of people saying, "How could you not like it?! What's wrong with you?!" and acting like I'm going out of my way NOT to enjoy it, just so I can say I didn't like it. I'M NOT. Just because I didn't like it, DOES NOT mean I did it on purpose. I just seem to have the bad luck of disliking books that the rest of the world thinks is better then chocolate *cough* Cassandra Clare books *cough* Anyway, it's been 2 years since I read TFIOS, so I wondered if my opinion might have changed and when I saw it at my library today, I couldn't resist and chucked it in my bag. Also, I'm kinda chuffed because there are 159 holds on it at the moment, and it was just sitting there on the library shelf? Haha. MINE.
Books I read this week...
Haven't read much this week I'm afraid!
Reboot:
This book wasn't for me. End of story. 2 stars
The Athena Effect: Enjoyed this waaaay more then I thought I would! Got off Amazon for Montgomery the Kindle (yes, my kindle has a name, but I'm sure HEAPS of people name their kindle...don't they?) and *meant* to wait till the holiday we're going off to in July, but the thought I should read the first page - just to see what it was like of course... and then a couple hours later I'd finished it 3.5 stars
Love Letters to the Dead:
Urgh. This book nearly killed me. And not in a good way. HATE, HATE, HATED IT!
1 star.
Stolen Songbird:
French stuff + trolls don't mix, just so you know.
2 stars
THE BEST BOOKISH SURPRISE EVER!!!!!!!!!!!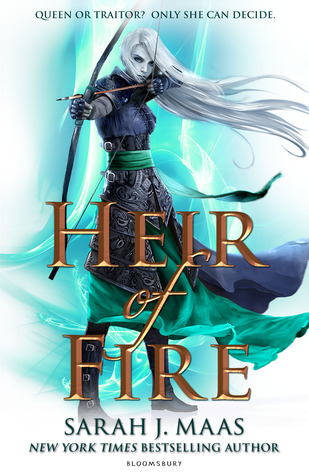 AAAAAAAAAAAAAAAAAHHHHHHHHHHHHHHHHHHHHHHHHHHHHHHHHHHHH!!!!!!!!!! I'M IN SHOCK!!!!! I requested this on Netgalley NEVER expecting to be approved, because y'know I'm quite a baby blog, and I only requested it in wishful thinking (as you do) and then I got an email yesterday saying "Thank you for requesting this title. You can now access the title by logging into Netgalley." (Uh, huh, I have memorized it, IT'S LIFE CHANGING YOU KNOW.) OMG I'M STILL IN SHOCK!!! I just can't believe that I received an ARC of Heir Of Fire!!!!!! IT'S JUST...I'M JUST...IT'S...AAAAAAAAAAAAAAAAAAHHHHHHHHHHHHHHHHHH!!!!!!!!!!!!!!!!!!!! SO MUCH FANGIRLING, GRATEFULNESS, FRABJOUS EMOTIONS, AND TEARS OF JOY GOING ON HERE, ASDFGHJKLASDFGHJKLLASDFGHJKLASDFGHJKLASDFGHJKLASDFGHJKL, I HAVE NO WORDS JUST RANDOM LETTERS!!!! Thank you SO much Bloomsbury and Netgalley for making not only my year, but my dreams come true!! I can't BEGIN to tell you how much this means to me and how grateful I am!!! Thank you from the bottom of my heart!!
I started Heir Of Fire last night, and peoples...I'M FINDING IT EVEN BETTER THEN CROWN OF MIDNIGHT. HOW IS IT POSSIBLE THAT THIS SERIES JUST GETS BETTER AND BETTER????? I'm 73% through, and I've been dragging it out like you wouldn't
believe
. And it's 530 pages long!!!!!!! I can just tell as soon as I've finished it I'm either going to curl up in a ball in a dark corner and DIIIIEEEE, or reread it till I know it word to word!!!
Link me up, lovely peoples!!! Have you read any books on my stack or happen to have any of them on your current stack?!?! What do you think about the Throne Of Glass Series?!?! Like?! Dislike?! Love them to frabjous and back like I do?!?!
SPILL, SPILL, SPILL!!!!!