Happy, happy, HAPPPPPPY bloggy birthday, to the
Notebook Sisters
!!! These girls are the funniest bloggers in the blogosphere, but not
only
are they hilarious, they're amazing, brilliant, and just plain
FRABJOUS
. They post some of the most thought provoking posts out there, but they also make you laugh as well. It's their
3rd
blogoversary this week, and to celebrate, they've come up with an Alice in Wonderland themed
tag
. I know, frabjous, right?! Pop over to their
post
to find out more!
1. Just Alice: What book cover(s) has made you super curious?
Oh gosh! I am ashamed to say that I *sometimes* pick up a book just because it has a cover I like. THIS ONLY HAPPENS OCCASIONALLY. I am proud to say that I don't suffer coverloveitis (see?! it even has a name.) as badly as some bookworms do.
Wild Awake! I admit I picked up this book up just because it had an interesting cover. It kind of fascinated me with all the blurred...stuff (don't ask) on it and the font was pretty. I like pretty fonts, just fonts you can read y'know? It's all very well having a squiggly noodle font on a cover, but if it's easier to distinguish upside down, well, you've got problems. Sadly, I didn't like the insides of this book at all.
My Brother Simple! Okay, I confess what hooked me was the bunny's chopped ear off. Not that I'm murderous or anything (all though my best friend will differ) buuuuut, it interested me. Also, finger painted title font is always a bonus. Turns out that sometimes you should just go with it, because I loved this book to Wonderland and back, and it's the only book I've ever read that almost made me cry. ALMOST.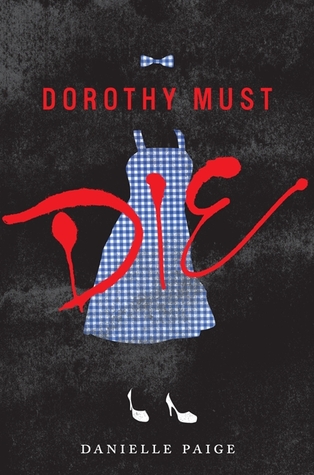 Dorothy Must Die

!

I am a girl that thinks less is more, and less half-naked-girls-in-dresses-that-are-so-big-it's-absurd is definitely MORE. So I liked the simplicity of this cover. There was no gorgeous young female in some pose that you're not even going to find in the actual novel, just a dress outline (no poofs!), shoes, (though I thought red shoes would've been better) and a bow (checked, of course). The font on this was lovely, too. I especially liked the 'Die' bit. I can't make up my mind it looks like strawberry sauce or blood... I'm siding on blood (alright maybe I'm slightly murderous. But only a bit).
2. Mad Hatter: List the craziest character(s) you've ever read.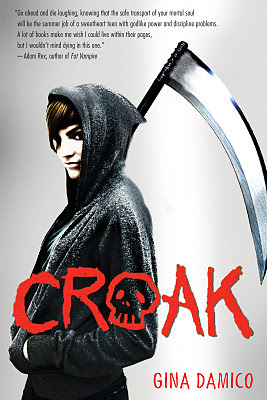 Croak! The characters in this book are all psycho! Like, psycho, PSYCHO. No one in this book comes under the word, 'normal', 'freaks' 'nutty', and 'psycho' are more apt.
3. Red Queen, Off With Your Head! What book have you felt like beheading?
I am a very, very, VERY picky bookworm. I give out 1 stars as easily as breathing. But the two unlucky books I pick today, are:
The Things We Did For Love! Good grief! This novel was so depressing! And made no sense! I picked this book up because I was suffering coverloveitis at the time, (it IS pretty, admit it) But, OMG. I wanted to burn this book over a fire slowly, after I read it. That, and making my dog eat it. Except I wouldn't want my poor pooch to get sick afterwards. This book involves stupidity, how to be the most selfish person EVER, lessons on what to do if your boyfriend is in danger of leaving the village (do NOT do this home) and a tutorial on how to burn heaps of people in a church. ALL THE COOL CHARACTERS MAY I ADD. While the selfish ones escaped. Blarrrrgh.
Wild Awake! This book had so much going for it, but it failed. Epically. I kind of want to write a post detailing to authors that not all teenagers drink, swear, do drugs 24/7 and don't sneak out/go out at all hours of the night. Yucky book.
4. White Rabbit: What books or series have been insanely popular but you've been "late" to pick them up?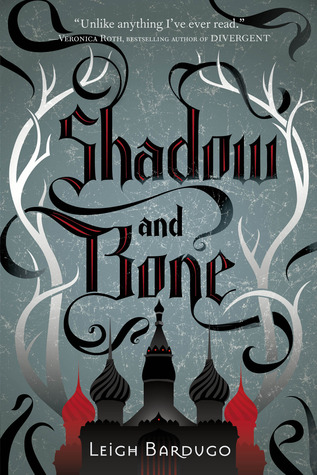 Shaodow and Bone!

I've given this one a wide berth, because I thought it wasn't my thing, and my tbr is always in danger of killing me so it didn't really need any more fodder, but, a few weeks ago, I saw it at the library, and decided to give it a try...and oh, MAN! I was hooked! Read it in a couple of hours and whoaaaaah! SO GOOD. Plus, the cover is so unusual! Makes me think of lollipops for some reason (this a good sign...I think).
5. Caterpillar: What's the most confusing book you've read?
The Chocolate War!
GAD! This book was confusing from word 1! I spent most of the book, going "WHAAAAT?!?!?! THAT DOESN'T MAKE SENSE!!" and the other part restraining myself from throwing it against my bedroom wall. Because y'know, I wouldn't want to mark my bedroom wall, would I? This book also deserves to be beheaded.
6. Dormouse: What was the last book that sent you to sleep?
Cybele's Secret! I'm *trying* to read this at the moment, as I loved the first book, Wildwood Dancing. However, Paula is the most BORING MC EVEEER, and I'm really struggling. I'm annoyed, because Jana the MC in Wildwood Dancing was fantastic, but Paula her younger sister is just...very sleep enticing if that makes sense.
7. Cheshire Cat: Book that made you laugh and smile?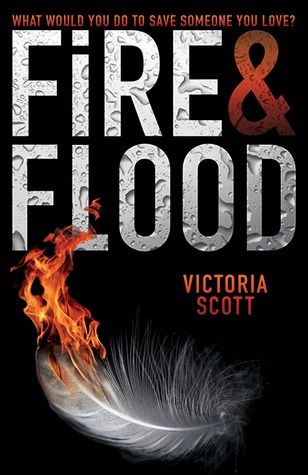 Fire and Flood was so fuuunnnnny! I was constantly giggling all the way through, which is probably why I gave it a high rating even if I didn't enjoy the rest of it as much. Still, FUNNNNNY BOOK.
Looking For Alibrandi! This book is...beautiful. Although the ending nearly killed me, this book made me laugh so much. Josie is one of my favourite main character's EVER. She has so much snark, I'm convinced that we are secret soul sisters.
8. Knave of Hearts: Most recent character who stole your heart?
Haley from The Impossible Knife of Memory! Hayley really pulled my heartstrings and I was so sad to say goodbye to her at the end of the book. I loved how human, Hayley was, and how far she'd go to save her Dad. Plus, COVER LOVE!! I ADORE this cover and it's going down on my Bestest Frabjous Covers of 2014 List.

9. Jabberwocky: Best villain you've read this year?
Oh, gosh, that's a tricky one! I haven't really read any great villains this year, but I thought Dorothy from Dorothy Must Die was pretty awesome!

10. Down the Rabbit Hole: What's the latest book/series/author that's completely swallowed your interest?
The Every series by Ellie Marney!! This isn't a 'new' obsession, but I've been obsessed with this series ever since the first book, Every Breath came out last year! To say I am looking forward to the second book, Every Word coming out on June is an understatement! I have the date marked on my calender, I'm number 1 in line at the library, I google updates, frequently, and I just loooooooove this series to pieces!! Cannot recommend it enough!! HURRY UP AND READ IT, CAIT.
So that's me done!! Massive thanks to the Notebook Sister for coming up with this frabjous tag!!